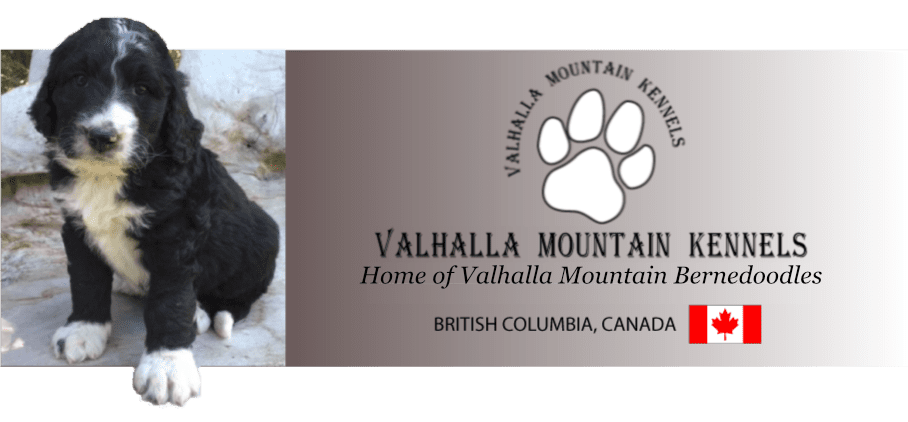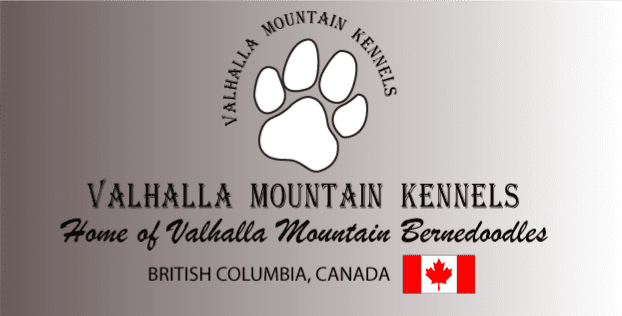 Owned and operated by Dr. Anne Starr and Brian Rehwald, Valhalla Mountain Kennels is located in the beautiful Slocan Valley.  We are only 15 minutes to the Castlegar airport or 20 minutes to the city of Nelson, British Columbia. For our American customers, we are located 3 hours north of Spokane Washington. We have a stunning 35-acre farm where we breed and raise our Standard Poodles, Bernese Mountain Dogs and Bernedoodles.  We also are breeders of gorgeous Spanish Andalusian Horses.
Nestled in a broad curve of the Slocan River in the fertile valley bottom and surrounded by the lush wilderness of the rugged Valhalla and Airy Ranges of the Selkirk Mountains, we are truly in a heavenly place.
Life is very good here on the farm and all of our animals lead an enviable existence. Our dogs have the freedom to run and play with each other in a 2-acre fenced yard and the horses are in a 20-acre field where they graze and interact with each other in a herd as nature intended.  They are fed the organic hay that we grow, drink the fresh water that cascades down the mountain slopes above and run free in our green pastures from spring until fall. We also have a small vineyard (Valhalla Vineyards) where even we get spoiled a bit and can drink our own organic wines.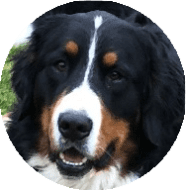 Our Breeding Program
We are very proud to announce that a number of our dogs have been selected for service work.  Because of their intelligence, temperament and a willingness to learn and serve, our pups are now going into hospitals, funeral homes, schools, courthouses and private homes to assist their owners, family members and the general public in a way that only a dog with unconditional love can provide.
We take great pride in both our canine and equine breeding programs. We have been breeding Spanish Andalusians for 24 years and have been "Breeder of the Year" for all of Canada for the past 9 consecutive years. Our dogs are of equally good quality. In the past, we have bred Yellow Labrador Retrievers (for almost a decade) but for the last 7years we have been breeding Standard Poodles, Bernese Mountain dogs and Bernedoodles.
We pay a great deal of attention to the details, large and small. For the selection of our breeding dogs, it was of utmost importance that their health is clear, their conformation is superior and their temperament is intelligent and kind. This was our priority and the focus of our quest for great dogs. Our standard poodles are large (like they're supposed to be), calm, kind and extremely intelligent. All have been genetically tested for disease and are either pending testing or have been tested for hips, elbows and heart.  Our Bernese Mountain Dogs come from a line of longevity, great conformation and are free of health problems.  They all have the lovability and loyalty that is found only in Berners. All our dogs are CKC (Canadian Kennel Club) registered or both CKC and AKC (American Kennel Club) registered with full breeding rights.
Bernedoodles
The hybrid vigor that the pups get from being a mix of the two breeds makes them more resistant to almost all genetic disorders including hip dysplasia. The Bernedoodle's beneficial traits are many including the increase in lifespan over the pure Bernese, the non-shedding/hypoallergenic properties and intelligence of the Standard Poodle (rated #2 smartest breed) and for the most part, the beautiful markings of the Bernese (there is the odd solid marked pup).
Our Bernedoodle pups have been a joy to raise. Not only are they adorable but they are growing up to be amazing dogs. To date, the vast majority of our pups have been hypoallergenic with most having been completely non-shedding with a small number being moderate/light shedders or greatly reduced shedding only losing the "odd tuft of hair". They have all been healthy and active dogs completely bound by love and loyalty to their new families. Extremely good with kids and adults alike, our pups have been easy to train and are now great family members.
CLICK HERE TO SEE A VIDEO OF OUR BEAUTIFUL BERNEDOODLE PUPPIES